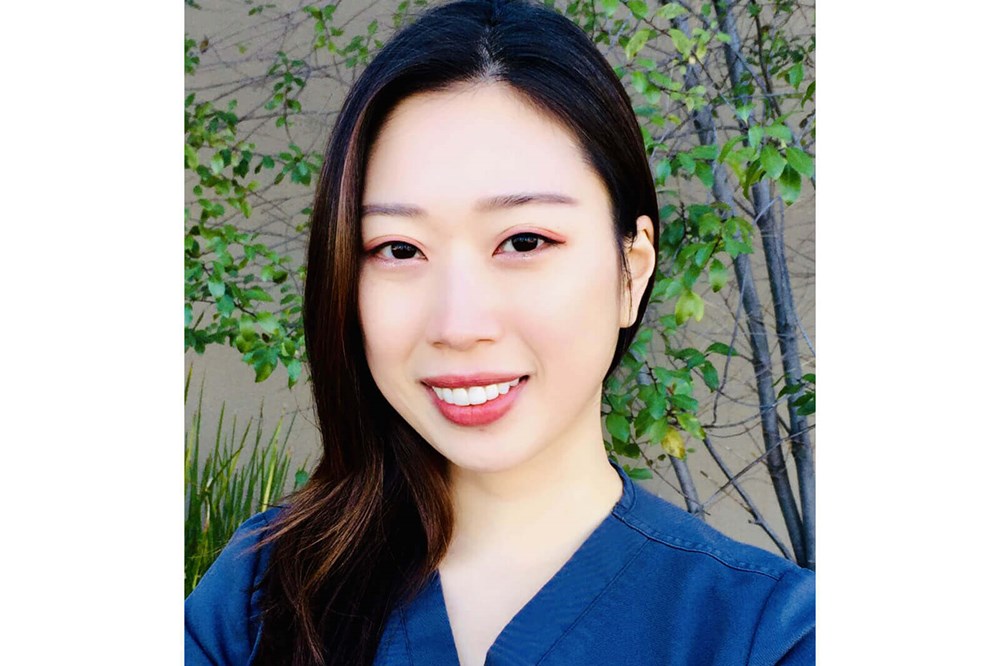 It may come as a surprise to learn that when she was a child, Dr. Ryu was once afraid of going to the dentist. This gives her a special understanding and empathy for those who are also anxious about dental exams. Dr. Rachel was worried that "when she was in college and no longer forced by her parents to go to dental appointments, she would start missing appointments out of fear." She knew that would lead to dental problems so to be on top of her dental health, she became a dentist! To her, it was a way for her to overcome her fears.
When it comes to dentistry, she loves problem-solving and designing new personalized treatment plans based on the patient's need and dental history. Since she knows what it's like to be an anxious patient, she also likes thinking of ways to help patients feel more comfortable during procedures.
Dr. Rachel helps patients with general, restorative, and aesthetic dental procedures. She is skilled in performing periodontal care, fillings, root canal therapies, and extractions. When it comes to cosmetic dentistry, she has extensive experience helping patients with veneers, implant restorations, and removable and fixed prosthodontics for dentures and partials. She also works closely with periodontists, surgeons, and pediatric dentists to help design comprehensive plans for patients.
Dr. Rachel earned her undergraduate degree from the University of Washington. After finishing her undergraduate degree, Dr. Rachel received her doctor of dental medicine (D.M.D.) degree from the University of Nevada at Las Vegas. During school, she learned the best techniques for different procedures, setting up complex dental plans, and making sure patients feel calm and relaxed throughout their appointments.
In addition, Dr. Rachel believes in giving back to her community. She has performed voluntary dental work at free clinics and teaches pre-dental undergraduate students about the clinical aspects of dentistry. Throughout school and recently, Dr. Rachel has volunteered for many organizations, including:
UCSD Voluntary Clinical Instructor
Navutu Stars Mission with Loloma Foundation
Give Kids A Smile Day
Saturday Children's Clinic
Sgt. Ferrin Memorial Veteran's Clinic
Seattle's Union Gospel Mission Dental Clinic
When she is not at the office, Dr. Rachel enjoys going to concerts and hiking. She also has an artistic flair; she paints portraits of her friends' pets as gifts. Dr. Rachel also loves to volunteer. She regularly volunteers at the UCSD free dental clinic.
Set up an appointment with Dr. Rachel today!
Reviews
"Highly recommend Dental Express!! My wife needed an emergency wisdom tooth extraction because she was in so much pain, not only did they get her in within 4hrs, they also took amazing care of her. Dr. Jamie and his assistant Lindsey were amazing, and comforting! Rachel at the front was a doll and so so helpful, Shannon, and Whitney were also very friendly! Will definitely be returning to this location for all my future dental needs! Thanks you guys!! -Dena R."
D.R.
Yelp
"The staff here is amazing.  Dr. Rachel, Jose, Amy, and Norberto and the rest are super cool.  Plus the t-shirt they gave me is best.  Highly recommend!"
R.T.
Yelp
"Heather, the hygienist, is the best!  Dr. Rachel is pretty great too.  They make going to the dentist an awesome experience!  Always top notch service from these two ladies."
R.V.
Yelp
"This is by far my favorite dentist and staff in all of San Diego County. After googling online dentist practices and reading reviews for three days I found Dental Express. From the moment I called the office to inquire about setting up my first consultation and X-rays I  knew I was in good hands. The receptionist Clairese was professional,Genuine and kind. She took all my information regarding my insurance ahead of time and booked the appointment two weeks out. I had no problem finding this office as it was a large office with ample parking. When I walked inside I was surprised to see a beautiful contemporary large CLEAN waiting room. The receptionist was on the phone and asked the person on line if they could please hold while she addressed me and gave me a few items to fill out. I listened as I filled out the paperwork and realized the care and interest taken with each one of their patients was top notch. I waited maybe 10 mins before I was brought back for X-rays. We are talking top of the line equipment and beautiful back offices. Afterwards in went into an office and met with several dental assistants getting everything ready for the dentist. Within 5-10 mins Dr. Har Rachel Ryu, D.M.D. Came in and introduced herself and did my exam. She was professional and extremely thorough and explained exactly what I needed and what my treatment plan was going to be. I have to say I liked her bedside manner immediately. Jose the patient Coordinator came in within minutes and explain to me exactly what the plan was and how my insurance was going to cover my procedures. He was extremely sweet and knowledgeable. I then went to the front and he booked me for my follow up visit 2 weeks out and printed out my next appointment for me.  On your first visit you also receive a cool Dental Express T shit in any size you like. I had such a great experience I couldn't wait to come back to get started, sounds a bit strange because who wants to see the dentist however I myself was excited to jump on a good routine with a great dentist and staff. I went in for my follow-up visit and even though I had anxiety as I had not been to the dentist in quite some time, Alex the assistant put me at ease and took the time to make me feel comfortable and explained everything we were going to do. She gave me options and listened to what I had to say. Dr. Rachel came in and reassured me she was going to take good care of me and she did. Her injection was painless,I could not feel a thing.  She finished up my procedure and I was thrilled how quickly and efficiently she worked. This woman is AMAZING!!! I followed up with the best dental hygienist ever to clean my teeth. I've requested her again for my next cleaning, her name is Heather and without a doubt an asset to this team. Who ever designed this practice should be proud. The owner is a Railroad Enthusiast and had a gentleman from the Railroad Museum in San Diego design a train that runs on a track that goes through each open office. The decor is lovely and EVERYTHING sparkling clean in the front as well as the back offices. I would give them 10 stars if I could because they definitely deserve it the owner of this practice should be very proud he has  created a team that is unbeatable anywhere in San Diego! ALL ABOARD DENTAL EXPRESS!! Happy Patient that has a lot to smile about"
D.G.
Yelp
"I cannot recommend Dr. Abdulrazeq Marabeh highly enough. I walked into this office a few months ago suffering extreme pain from deeply impacted wisdom teeth that I'd been avoiding taking care of ever since I literally RAN out of a Western Dental office two summers ago. I've had a severe dental phobia for ~12 years now, but honestly after having been seen at this office a few times I'm feeling better about my dental health than I ever have in my entire life (and I had braces for 8 years). I've seen probably 5 different dentists over the past decade, including one I literally had to talk through completing an extraction while having a panic attack because he couldn't understand why I'd already metabolized the pain medication and was mad I insisted he re-numb the area. Never went back to any of them... was starting to think that's just how dentists are? Well. I was WRONG. The staff at Dental Express are phenomenal. Dental surgery is obviously Dr. Marabeh's calling. I'm pretty sure he's younger than I am, but with that being said he has more skill & professionalism than doctors twice his age. He's extremely efficient with numbing technique (once I didn't even realize he was actively stabbing a giant needle in my jaw), works quickly with care and precision, and is very thorough in answering all of my many questions about the tools he uses/what the procedures entail. Plus, he seems to genuinely enjoy the work that he does. (I've never seen anyone get that excited about a new style of "elevator" pick before... but hey... dude found his passion.) Anyway. I know this is a super long review, but I just had my 3rd appointment today (involving a filling, a root canal, and a temp crown) and due to scheduling, I had to bring my seven-year old with me for the 3 hours I was there. Not ideal, but the staff assured me that was fine and then (!!!) the dentist and his technician were kind enough to even check in with him & even walked him to the restroom for me while I was still in the chair. Completely above & beyond. sidebar: my son likes the other dentist better (Ryu? I think? or Hyu? is her last name possibly?), but that's probably just because he prefers tiny female medical professionals anyway... I wasn't thrilled that she wanted to insert the needle with the numbing agent without telling him what was happening to him first, but other moms who aren't as gung-ho about informed consent may be okay with that. it's really a small thing, though, because when he had pain they got him in same day for an emergency filling and he still wants to go back to the office, so. TL;DR: new gold standard for dentists practice"
M.M.
Yelp
Related Posts