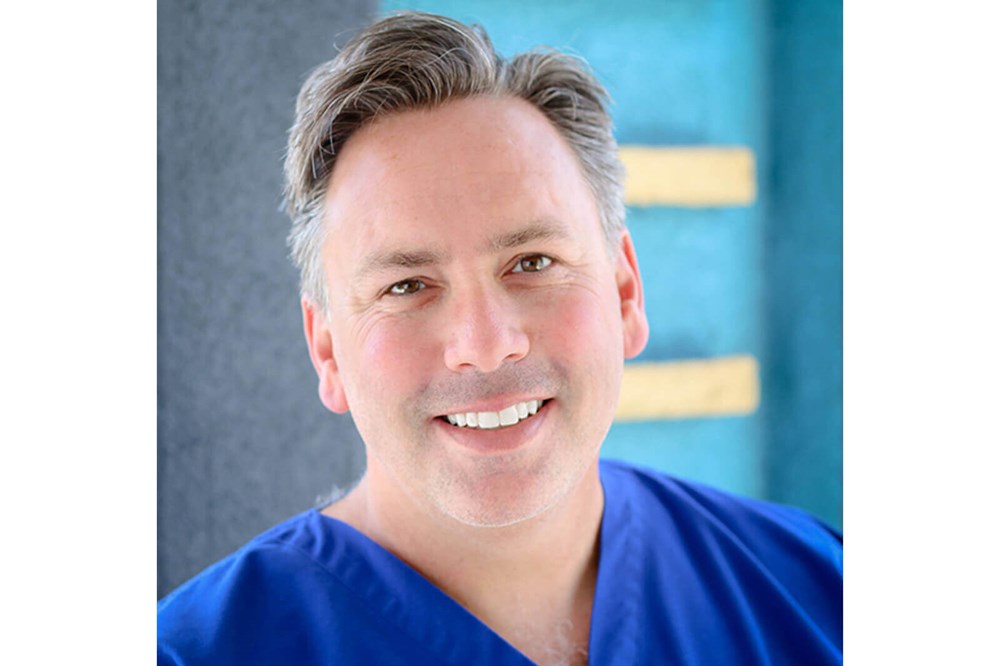 Dr. Jamie's path to becoming a dentist was non-traditional, to say the least. Before attending dental school, he spent nearly ten years serving in the United States Navy Submarine Service as a Sonar Technician. During this time, he completed multiple deployments onboard nuclear powered fast-attack submarines; he's also a veteran of Operation Desert Shield/Storm.
After being honorably discharged from the Navy, Dr. Jamie completed his undergraduate degree at San Diego State University. He received his dental training at one of the top dental schools in the country: the University of the Pacific School of Dentistry in San Francisco, CA. His education and experience have allowed him to provide the best care and treatment for his patients. From consultations and dental cleanings to complex procedures, like dental implants, patients love Dr. Jamie because of the time and compassion he provides during each appointment.
As an experienced dentist, Dr. Jamie is extremely knowledgeable when it comes to general, restorative, and aesthetic dental treatments. For overall dental health, he helps patients with cleanings and exams, fillings, periodontal care, teeth extractions, and root canal therapies. He is also certified to work with orthodontic treatments, such as SmileCorrect, which helps patients with teeth straightening. As part of cosmetic dentistry, Dr. Jamie can assist patients with teeth whitenings, veneers, and dentures.
Dr. Jamie graduated with his bachelor's degree in biology and a minor in psychology from San Diego State University (SDSU). After receiving his bachelor's degree, he attended the prestigious University of the Pacific (UOP) for his doctorate of dental surgery (D.D.S.). While in school, he participated in several organizations, including:
Pre-Dental Club Marketing Coordinator at SDSU
University Ambassador for the Esthetics Club at UOP
Both of these experiences helped him grow and learn more about interacting and caring for his patients' needs. In addition, he received an esteemed scholarship from the San Diego Dental Health Foundation and he participated in UOP's Clinical Excellence Day for his research on veneers.
His education is also complemented by his extensive history with the military. Before attending school, Dr. Jamie worked on submarines as an Acoustic Intelligence Instructor and an Advanced Maintenance Technician for a multi-million dollar electronics suite with the Navy.
Dr. Jamie is proud to be a part of the following associations and societies:
American Dental Association
California Dental Association
San Diego County Dental Society
Dr. Jamie is married to his wife of 25 years, and he has three sons. When he's not helping patients, you'll find him grilling for his family and friends. He loves barbecuing on his days off; in fact, his bucket list includes taking a whiskey/BBQ tour around America someday! But for now, he's content to experiment with new BBQ techniques at home and be inspired by Burgers, Brew & 'Que on the Food Network.
Reviews
"Dr. Jamie and his assistants/hygienists were all wonderful. Before coming to Dental Express, I saw a dentist in La Jolla who told me I had 5 cavities that needed to be filled. I was skeptical because my dentist in my hometown whom I had been seeing regularly since childhood never told me I had cavities. I went to a different dentist to get a second opinion, then came here to Dental Express for a third opinion, both dentists told me I had no cavities. Dr. Jamie even patiently explained to me that all dentists have different opinions, and it doesn't make them good or bad dentists. His objective and professional comments were very reassuring. I did have to wait a little bit in the waiting room and once I was seated, but nothing too bad. The office was really clean and tidy, and all of the staff were very friendly and completed the procedure quickly. At the end of my appointment I received a quote for my wisdom teeth removal which I asked for, and a free T-shirt as a first-timer. My only complaint is that I asked them to send my my x-rays via email twice, to which they agreed both times, but I never received them in my email. It was overall a pleasant experience at Dental Express, and I would definitely recommend it!"
J.C.
Yelp
"Highly recommend Dental Express!! My wife needed an emergency wisdom tooth extraction because she was in so much pain, not only did they get her in within 4hrs, they also took amazing care of her. Dr. Jamie and his assistant Lindsey were amazing, and comforting! Rachel at the front was a doll and so so helpful, Shannon, and Whitney were also very friendly! Will definitely be returning to this location for all my future dental needs! Thanks you guys!! -Dena R."
D.R.
Yelp
"Needed dental attention asap on a Saturday and this office was able to accommodate me to do a quick fix on a loose front tooth.  Saw Dr. Ferguson, who was quite candid in explaining the only available option, which was not a long-term fix.  He was ably assisted by Alex, who was  also very informative, efficient and professional.  Have had some really unsatisfactory dental experiences in the past so I feel confident in assessing this visit as a totally opposite and comfortable treatment by all of the Dental Express staff - you, too, Jasmine, at the front desk.  Offices are attractive, maybe even swanky, and a reasonable price under hurried circumstances.  So this 5 star review is well deserved."
D.L.
Yelp
"100% love! I'm not normally a big fan of dentists but the experience was impeccable right from the start! I requested an appointment online and was helped almost immediately. They helped me with my insurance right there over the phone and I was set to come in a few days later. When I walked in the office was not only clean but extremely welcoming and the staff were so helpful and kind. I didn't wait long even though I showed up almost half an hour early for my appointment. The hygienist eased my discomfort and the doctor was friendly! Very straightforward, friendly and made the experience I was dreading very pleasant. The cleaning itself was painless and quick. I was in and out in about an hour. Loved this place and completely expect to be coming back for as long as they're open. Thank you Dr. Jamie and Maurice!"
S.T.
Yelp
"3 weeks ago I cracked a tooth just 2 days before I was leaving town for my wedding. They were so accommodating and were able to get me in immediately on a weekend. Dr. Jamie? Was so professional and really put my fears of the dentist at ease. Went back yesterday to complete the follow up and the cashier (the blonde woman, can't remember her name) was so sweet and had even remembered from a 30 second interaction 3 weeks before that I went on a trip. She asked me how my vacation was and the check out process was painless. I couldn't believe how she had taken the time to remember and how nice she was! Everyone who works here is professional, warm and clean. This is my new go to dentist!"
A.R.
Yelp
Related Posts