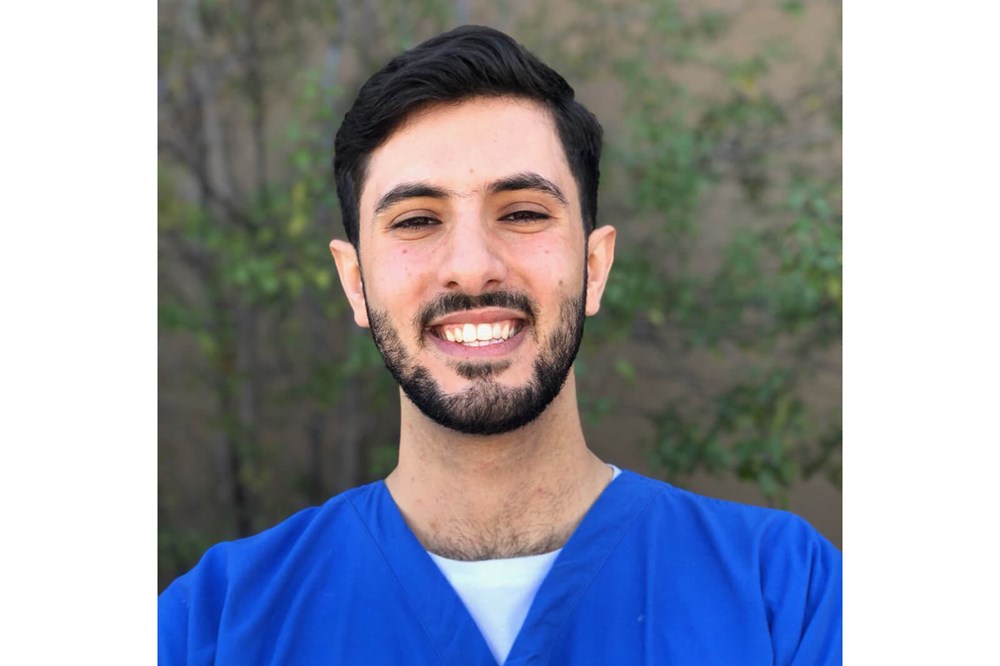 Dr. Abdelrazeq is an experienced and skilled dentist in the San Diego area. He became a dentist because he takes great pride in helping patients improve their smiles, loves working with his hands, and couldn't picture himself doing anything else. Dr. Abdelrazeq strives to ensure his patients feel comfortable and relaxed throughout their treatments. He is well-known for his passion for dentistry, professional demeanor, and excellent technique. During consultations or follow-up appointments, patients love the time he takes to answer questions or concerns. His experience and soft touch allow him to perform complex dental procedures with very little pain.
Specialties and Expertise
Dr. Abdelrazeq performs cosmetic, general, and restorative dental procedures. He can help patients who need assistance with fillings, exams, periodontal care, root canal therapies, and extractions. For cosmetic dentistry, Dr. Abdelrazeq performs teeth whitenings, applies veneers, helps with smile makeovers, and creates dental implants. Overall, he strives to help patients feel happy about their smile and ensure they have healthy teeth.
After receiving his undergraduate degree from the University of California at San Diego, Dr. Abdelrazeq attended NYU for dental school. Following NYU, Dr. Abdelrazeq completed his surgical and dental residency at a level one trauma center in New York City. During his time at the trauma center, he liked experiencing four seasons for a few years; however, Dr. Abdelrazeq missed the sound of crashing waves and relaxing on warm, sandy beaches. After a few more harsh winters in NYC, he moved back to San Diego.
While the winters were not for him, he gained a tremendous amount of experience in school and at the trauma center. At the Staten Island University Hospital, he broadened his clinical skills, which included dental extractions, fixed and removable prosthetics, and increased his knowledge of advanced techniques for oral surgeries. In addition to a busy school schedule and residency, he performed many volunteer activities, such as:
Raising money for a West African relief fundraiser at ICNYU
Providing pediatric outreach in local NYC schools
Serving patients on a dental relief trip with the NYUCD Global Outreach Program
Participating as a faculty practice provider and as an NYU dentistry peer mentor
Dr. Abdelrazeq is proud to be a member of the following groups:
American Dental Association
California Dental Association
San Diego County Dental Society
ADEX CDCA Licensed
When he's not at work, Dr. Abdelrazeq likes to unwind by going deep sea fishing! If he's not in the deep water, he loves to surf fish on the beaches and at Lake Poway. In addition, he loves to catch waves while body surfing at Del Mar beach.
Make an appointment with Dr. Abdelrazeq today!
Reviews
"I was recently seen by Dr. Marabeh for a tooth that another dentist told me needed major work and most likely couldn't be saved. Not only did Dr Marabeh save my tooth, but his excellent work relieved me of my constant pain. He and his staff were very friendly, welcoming and professional. Dr Marabeh explained thoroughly the treatment plan that I needed and I was very impressed by his thoughtfulness regarding how to get he most work done with my dental benefits . I am looking forward to finishing my dental work w Dr Marabeh."
S.A.
Yelp
"I was referred by my mother to go visit Dr. Marabeh who took excellent care of her during her dental procedures. My mother is extremely picky on who she trusts with her dental or health needs so for her to refer someone like Dr. Marabeh with so much enthusiasm was refreshing . So I decided to go for myself and see what the hype was all about. First of all, the office staff greeted me with a smile and were extremely welcoming. The office was pristine and clean. I waited for a short moment after I was greeted and approached by dr. Marabeh. I understood what my mom was raving about. He thoroughly explained everything I needed after examination. He was approachable and confident.  I was a bit nervous because the last cleaning/dental procedure I had done wasn't a pleasant experience. I had a cleaning and a filling done and all I can say was kuddos to you dr. Marabeh!!!! I will be back to get the rest of my work done soon with you man! If you are looking for great staff and an amazing Dr. that treats you like a patient and not a customer I highly recommend going to visit Dental Express  and specifically asking for DR. MARABEH!"
B.A.
Yelp
"Well I had a tooth emergency! My crown fell out and for this girl who loves to smile and is well a bit social :) it was hard to keep my smiling and laughing under wraps! I went to Dr. Abdelrazeq Marabeh at Dental Express and let me tell you he fixed my crown and was soooo helpful to make me feel better and I wasn't a customer I was a patient , a person and wow that felt good at a dentist office! My entire experience from beginning to end was amazing , welcoming as you enter , the X-rays were taken quickly, seeing the Doctor and talking to Norberto Morales about what to do next and setting up my future appointment, I can tell you they know what they are doing and I at last found a office and a Doctor and staff I can TRUST!!!! Well I just left Dr. Marabeh And He fixed the main thing about my smile ,my front teeth and wow I am so happy with the results, I feel like I am sporting a Hollywood smile :)"
G.K.
Yelp
"Let me start off by saying , Dental Express team has won me and my entire family over!! They are simply the most caring , friendly, attentive team I've ever experienced from a dental office. From the moment you walk in , you are instantly greeted warmly from the receptionist in the front, to the assistant who takes you back with another welcome and smile , to the end of the appointment when you are again greeted with more smiles . Both Claritza and Liz are super helpful and very friendly , making me feel so welcome and important to them. I'm definitely recommending all my friends and family because they are simply the best and I can't say enough of how impress I am with the whole team , Dr Marabeh is awesome !!!! I can't wait to come again at my next visit , found my new dental home."
F.R.
Yelp
"After having a very bad experience with Western Dental. They are the worst in the city. I went to this office. I was impressed by the friendly, and very professional staff there. And how well they treated me there. I was also impressed by the dentist and his competence in the work he was doing on my mouth. The staff and dentist made for a very pleasant experience. I highly recommend this dental office."
S.G.
Yelp